Imagine getting fired after asking for your job description and then discovering you are owed over $10,000 in unpaid wages and termination pay. That's what happened to Workers' Action Centre member, Nathaly, while working at a food processing warehouse in Vaughan. And she's not alone. Wage theft is the most common problem for workers who call our workers' rights phone line. Some of us aren't paid for all our work hours, or never see the overtime, vacation and public holiday pay we are entitled to – and almost all employees are entitled to these things! 
If you've been in low wage or precarious employment in the last five years, please take the Problems at Work Survey to help us learn more about wage theft and develop effective ways to fight back (also available in Bengali, Chinese, Somali, Spanish and Tamil).
The first sign of trouble for Nathaly was realizing that she was fulfilling the tasks for more than one job position. She was an inventory controller but also a forklift operator. Although she worked at the same warehouse for almost 5 years, she was only getting paid $17 an hour by the temp agency. She was also expected to work on public holidays, but was never paid any public holiday pay or premium pay.
Share on Facebook and Twitter.
Help push for equal rights for undocumented workers!
JOIN THE STATUS FOR ALL RALLY & MARCH ON SEPT 17
(Actions on Sept 16 & 17 in 15 cities across Canada – share on Twitter.)
When the managers asked Nathaly to train a new inventory controller, she agreed. She asked to see her job description to see exactly what training someone would entail. The managers said they would look into it but looked upset at her request. So, Nathaly said she was only asking for what the Ministry of Labour says workers like her are entitled to. Like many bad bosses, they did not appreciate the reminder that workers have rights! 
Eventually, the managers met with Nathaly about her job description. But instead of giving her the job description, they told her that their workers are paid by the hour and are supposed to do whatever the boss says. They said their company does not have a union and claimed Nathaly was not allowed to talk about the Ministry of Labour. But what the managers said was a lie as the Ministry of Labour enforces Ontario's Employment Standards Act, which protects all non-unionized workers.

When asked about the conversation that day, Nathaly said: "I was speaking about my rights and they didn't like that. Most people working there are migrant students, don't have documents or are working for cash. They claim you can't speak up in those situations but that's not true! I told them that they can't do that to people. I wanted to teach them a lesson that they have to treat workers properly and respect their rights as employees."
When leaving work that day, Nathaly said goodbye to all her coworkers, knowing she likely would not be called back. While the agency claimed that they would give her the job description and call her about her next work shift, they never returned Nathaly's many calls and eventually stopped picking up altogether.

So, Nathaly called the Workers' Action Centre for support in filing a claim with the Ministry of Labour. Nathaly collected all her paperwork and a record of her hours of work. "It was a long process, but the help of the Workers' Action Centre was really good. I had all the proof of what happened and messages I sent to the agency and managers that they never responded to."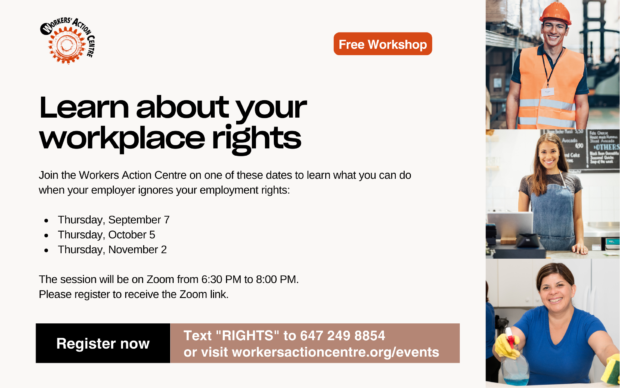 Register for a free online workers' rights workshop
(Please register to receive the Zoom link.)
The Ministry ruled that Nathaly was terminated since the temp agency had never responded to her. When a Ministry of Labour agent called saying the temp agency was offering to settle, Nathaly said she would refuse any settlement that did not include all she was entitled to including her termination pay, unpaid wages, vacation pay and public holiday pay. Nathaly knew her rights and she would not settle for anything less. She said to us, "I got everything that I wanted. I hope this helps other people to speak up and to ask for what they deserve, even if they are migrant students, or don't have papers."
To defend your rights like Nathaly did, you have to know your rights! Join the Workers' Action Centre for a free workshop that will let you know what you can do when your employer ignores your rights. And if you or a worker you know needs support, please call the Workers' Action Centre at (416) 531-0778 or 1-855-531-0778. Let's fight for our rights together and win!