Here's what you need to know.
Ontario's new minimum wage is $16.55
On October 1, 2023, Ontario's minimum wage increases from $15.50 to $16.55. This increase of $1.05 per hour means an adult minimum wage worker who works 40 hours a week will make about $2000 more each year. And this increase not only raises the wages of minimum wage workers, but also raises the wages of any worker who makes less than $16.55. As a result, nearly 1.4 million workers will get a pay raise on October 1. With low wage workers disproportionately women, migrants and racialized workers, this increase will provide much needed relief for many Ontario families.
That said, not everyone gets Ontario's minimum wage. Students under 18 years of age working less than 28 hours a week receive a lower minimum wage of $15.60 as of October 1, 2023. And depending on your job, you may not get minimum wage at all, as is the case for farm workers, IT workers and building superintendents.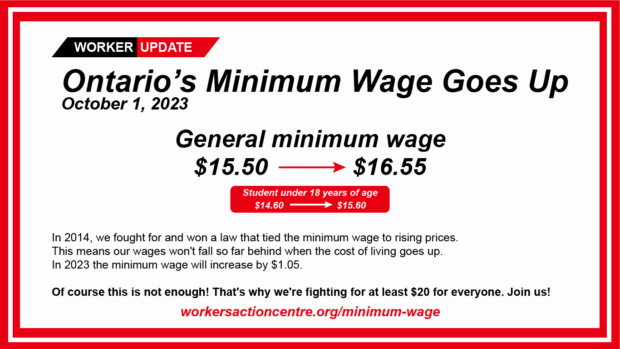 Share on Facebook | Repost on X (Twitter)
Find resources about your rights
Why does Ontario's minimum wage increase?
The minimum wage goes up each year because workers fought for – and won – a law in 2014 that tied Ontario's minimum wage to cost of living increases as measured by the Consumer Price Index (CPI). The CPI measures inflation through changes in the price of things like food, shelter and transportation. With inflation at 6.8% this previous year, the 2014 law means the minimum wage must be adjusted by $1.05 on October 1, 2023.
In other words, the October 1 increase is not because of the Ministry of Labour and certainly not because of Premier Doug Ford. Don't forget that it was Premier Ford who canceled a planned $1 minimum wage increase to $15 as one of his first acts as Premier in 2018. Premier Ford also passed legislation to freeze the minimum wage again in 2019 by canceling the October 1, 2019 minimum wage adjustment.
Keeping up with inflation is important. But 16.55 is not enough!
When wages stay the same but prices go up, it is as if our pay is being cut. That's why the raise of $1.05 is so important. It allows workers who earn minimum wage to afford the same standard of living on $16.55 as they did on $15.50.
The problem is $16.55 is not enough to get by in Ontario. Our minimum wage has not kept up with inflation. In fact in the 1990s, the Ontario government froze our minimum wage at $6.85 for 9 years while prices continued to increase. This is why the Workers' Action Centre is part of a movement that is fighting for at least a $20 minimum wage. Nobody should work for poverty wages.
What if I am not paid the new minimum wage? What if I want to know more?
Check your pay cheque this October and make sure you are paid $16.55 an hour for time worked on and after October 1. If you are not being paid minimum wage (or any other wages such as vacation, overtime or public holiday pay), call us at the Workers' Action Centre for support at 416-531-0778.
Learning more about your rights will help you protect yourself on the job. Join one of our monthly online Know your Rights at Work workshops held on Thursday evenings at 6:30 pm.