On Thursday, Premier Ford announced the first phase of businesses reopening in the province, which will force many workers to risk their health at bad jobs. In times like these, wouldn't it be great if Ontario's lowest-paid workers could rely on labour protections against the devastating effects of COVID-19?
Join the Day of Action for PAID Emergency Leave Days on Thursday, May 21 to demand that the Ford government bring back paid sick days to protect workers and public health! Cutting our 2 paid sick days was the wrong move. Now we need to ensure that paid sick days are legislated as essential protections and increased to a minimum of 7 permanent days. It's time for us to take action for decent work!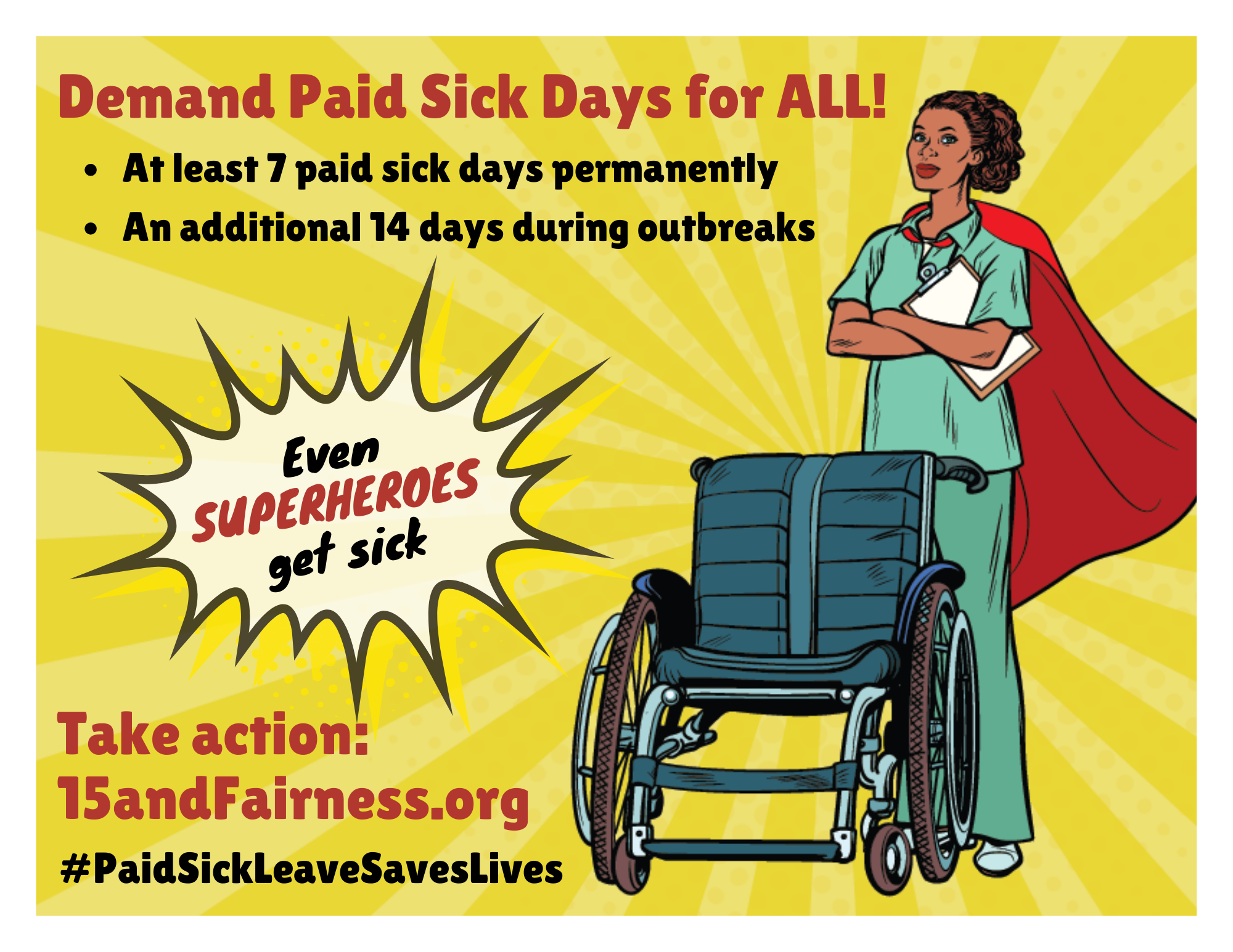 Sign the petition. | Share on Facebook. | Share on Twitter. | Download posters & window signs for the May 21 action.
Essential workers and ALL workers deserve better from our leaders. The coronavirus pandemic has clearly shown that weak labour laws, lack of enforcement, and low wages are unsustainable.
Finally, we are seeing higher wages for essential workers as the federal government has now introduced "pandemic pay," a $4 pay increase for certain essential workers. Pandemic pay means our governments finally admit that wages are unacceptably low, but it is not offered to all essential workers. This temporary wage increase is also a confession that going to work is a health risk. Still, the Ford government is now putting people back to work without introducing the laws we need to protect workers' health.
Though pandemic pay may give a measure of relief to some, it doesn't help when a worker is sick and needs to stay home. All workers in our food supply chain, healthcare workers, sanitation workers, and more—including casual and temp workers—need a permanent raise and 21 paid sick days now!
The pandemic won't stop us from organizing for decent work. Help us make some noise for 7 permanent paid sick days and 14 more paid leave days during pandemics. Check out the many ways you can take part in the Day of Action for PAID Emergency Leave Days and share the event on Facebook. Encourage your friends and family to join you on Thursday, May 21 to thank and protect the workers that keep us all safe, clean, and fed.
Webinar on Workers' Rights During COVID-19
If you are worried about unsafe work or don't know if you qualify for the Canada Emergency Response Benefit (CERB) or other emergency benefits, join our next free online workshop at 7 pm on Thursday, May 28. 
Workers' Action Centre and Fight for $15 & Fairness give you the latest info at our webinars held every other Thursday at 7:00 pm. To find and register for future dates, please visit www.15andFairness.org/events.
If you have urgent questions about your work situation or applying for CERB, please call our confidential workers' rights hotline at 416-531-0778.