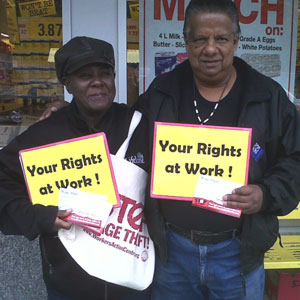 I have been doing outreach in my neighborhood as a new member of WAC.  We have heard a lot of stories from people about not getting paid and unfair treatment at work.  It was a wakeup call to hear how employers are treating their employees unfairly.  When I heard their stories I felt sad because just a few months ago I encountered some of the same problems at my work place.
We are collecting postcards to send to our MPPs so that they can see the issues facing people in their riding.  We need them to take action and help get legislation in place to protect workers more.  I would ask the candidates running to be the new leader – are you going to push to help workers get their wages and deal with bad bosses? Are you going to deal with how employers are treating employees?
Let's continue to support the Workers' Action Centre and get involved.  It doesn't take one person; it takes a group of people to work together for us to get changes made.
– Jen